Ice cream is a popular article made from milk, eggs, sugar and flavours. The first ice cream was made centuries ago and consisted of snow with wine and fruit juices. Later the snow was replaced with milk and eggs. Because the freezer would only be invented years later, ice cream was available only to rich people and people in cold areas. The ice cream was made by combining the ingredients in a jar. This pot was shaken vigorously in a pan with ice water and salt. In 1670 the first ice cream was sold in a cafe in Paris. The ice cream became more and more popular. In 1851 it was found that the sale of ice cream made even more profit than the sale of milk.
Productieproces consumptie-ijs
Mengen
De eerste stap bij het produceren van ijs is het mengen van de ingrediënten. Als eerste wordt de koude melk (2ºC) in de mengtank gebracht. Hier worden de eieren, melkbestanddelen, suiker en enkele additieven toegevoegd. In 6 tot 8 minuten wordt het tot een egaal mengsel geroerd.
Pasteuriseren
Om vegetatieve micro-organismen af te doden wordt het mengsel gepasteuriseerd. In een batch proces wordt 20 minuten bij 70ºC gepasteuriseerd. In een continue proces is de hittebehandeling 2-3 minuten bij een temperatuur van 82ºC. Na het pasteuriseren hoeft niet gekoeld te worden, homogeniseren wordt over het algemeen namelijk warm uitgevoerd.
Homogeniseren
Om vetafscheiding in het uiteindelijke ijs te voorkomen wordt het mengsel gehomogeniseerd. De vetbolletjes uit de melk worden dan verkleind. Elk vetbolletje heeft een beschermend membraan om zich heen. Als de vetbolletjes verkleind worden, wordt het totale oppervlak van de vetbolletjes vergroot. Het membraan is dan niet meer toereikend om het gehele oppervlak te bedekken. Melkeiwitten nemen deze functie over en vormen zich om het nieuwe oppervlak.
Homogeniseren houdt in dat de melk met hoge druk door een kleine ruimte wordt geduwd. De druppels worden gestrekt, door een nauwe opening, en breken op in kleine druppeltjes (1-10 μm). Het homogeniseren heeft ook als functie nogmaals goed te mengen.
Koelen en rijpen
In enkele minuten wordt het mengsel teruggekoeld naar 2ºC. Bij deze temperatuur krijgt het mengsel 8 tot 24 uur de tijd om te rijpen. Rijpen houdt in dat de vetbolletjes uitkristalliseren. Uitgekristalliseerde vetbolletjes zijn later in het proces nodig om structuur op te bouwen. De vetbolletjes zorgen ervoor dat lucht vast gehouden kan worden.
Toevoegingen
Na de gekoelde opslag kunnen de smaakstoffen toegevoegd worden. Deze smaakstoffen worden pas na het pasteuriseren en homogeniseren toegevoegd. Bij verhitten kan de smaak namelijk verloren gaan. De smaakstoffen zouden kunnen vervliegen. Na deze stap kan eventueel een gekoelde opslag plaatsvinden van maximaal 2 dagen.
Beluchten en vriezen
Om de gewenste structuur van het ijs te verkrijgen wordt het ijs bevroren. In het eerste vriesproces wordt maar tot enkele graden onder het vriespunt gevroren, de massa is dan nog pasteus. Het product bouwt dan al structuur op, maar is nog wel verpompbaar. Tegelijk met het invriezen wordt lucht in het product gemengd, bijvoorbeeld in een geschraapte warmtewisselaar. Het is ook mogelijk eerst de lucht in te mengen en daarna in te vriezen. De lucht geeft het product de gewenste luchtige structuur. Ook kunnen in deze stap stukjes, als fruit en koek, toegevoegd worden.
Door deze vriesstap snel uit de voeren worden vele kleine ijskristallen gevormd. De grootte van de ijskristallen is cruciaal voor de kwaliteit van het eindproduct. Bij langzaam invriezen vormen zich grotere ijskristallen omdat de reeds gevormde ijskristallen de tijd krijgen om uit te groeien. De grote ijskristallen geven een ongewenst mondgevoel.
Verpakken
Het licht gevroren ijs, in de vorm van een pasteus mengsel, wordt in kartonnen of plastic bakken afgevuld. Hierna wordt het afgesloten met een deksel.
Harden, ook wel diepvriezen
In de verpakking wordt het product gehard, hiertoe wordt het verder gevroren. In deze stap wordt het naar een temperatuur tussen de -23 en -40ºC gebracht. De tijd die het diepvriezen in beslag neemt is afhankelijk van de gekozen vriesmethode. Het vriezen kan van enkele minuten tot 10-15 uur duren. Meer informatie over de verschillende vriesmethoden staat in het linkermenu bij 'technologie' onder 'warmtetransport' en vervolgens 'vriezen'.
Opslag
Het consumptie ijs is bij een temperatuur van -18ºC enkele maanden tot een jaar houdbaar. Microbieel is het onbeperkt houdbaar bij -18ºC. Maar enkele enzymatische reacties kunnen nog wel plaatsvinden, zij beperken de houdbaarheid tot enkele maanden tot een jaar. Belangrijk is dat bij opslag de temperatuur een constante waarde aanhoudt, met een maximale temperatuurschommeling van +/- 1ºC. Bij grotere temperatuurschommelingen, tussen bijvoorbeeld -14 en -18ºC, kan kristalgroei plaatsvinden. Kristalgroei zorgt voor een ongewenste structuur en mondgevoel.
Editorial
Hygienic cabling at a Unilever factory
The Streamline HD cable support system was explained at a knowledge event. After internal consultation, Ben & Jerry's decided to get started with it. The initial findings are so positive that they are going to prescribe their suppliers to use this form of cabling from now on.
"My boys were quite envious when they heard where I was going", Michael Evers—Business Development Manager at Niedax Group and Secretary of the national working group Hygienic Cabling— told us, while standing in the reception hall of Ben & Jerry's factory in Hellendoorn.
It all started in the 1950s; in addition to bread and pastries, Hellendoorn baker Gerrit Valk, decided to start producing ice cream. In the 70s, the production site was moved from the centre of Hellendoorn to its current location in Hellendoorn, and was increasingly automated. In the 90s, the company stopped baking. Unilever took over the factory in 1985 and started producing Ola ice cream. Since 2002, the core business of the factory has been producing Ben & Jerry's ice cream. Ben & Jerry's is a great example of a factory where all kinds of brownfield-projects run and have been run in order to produce in a state of the art manner.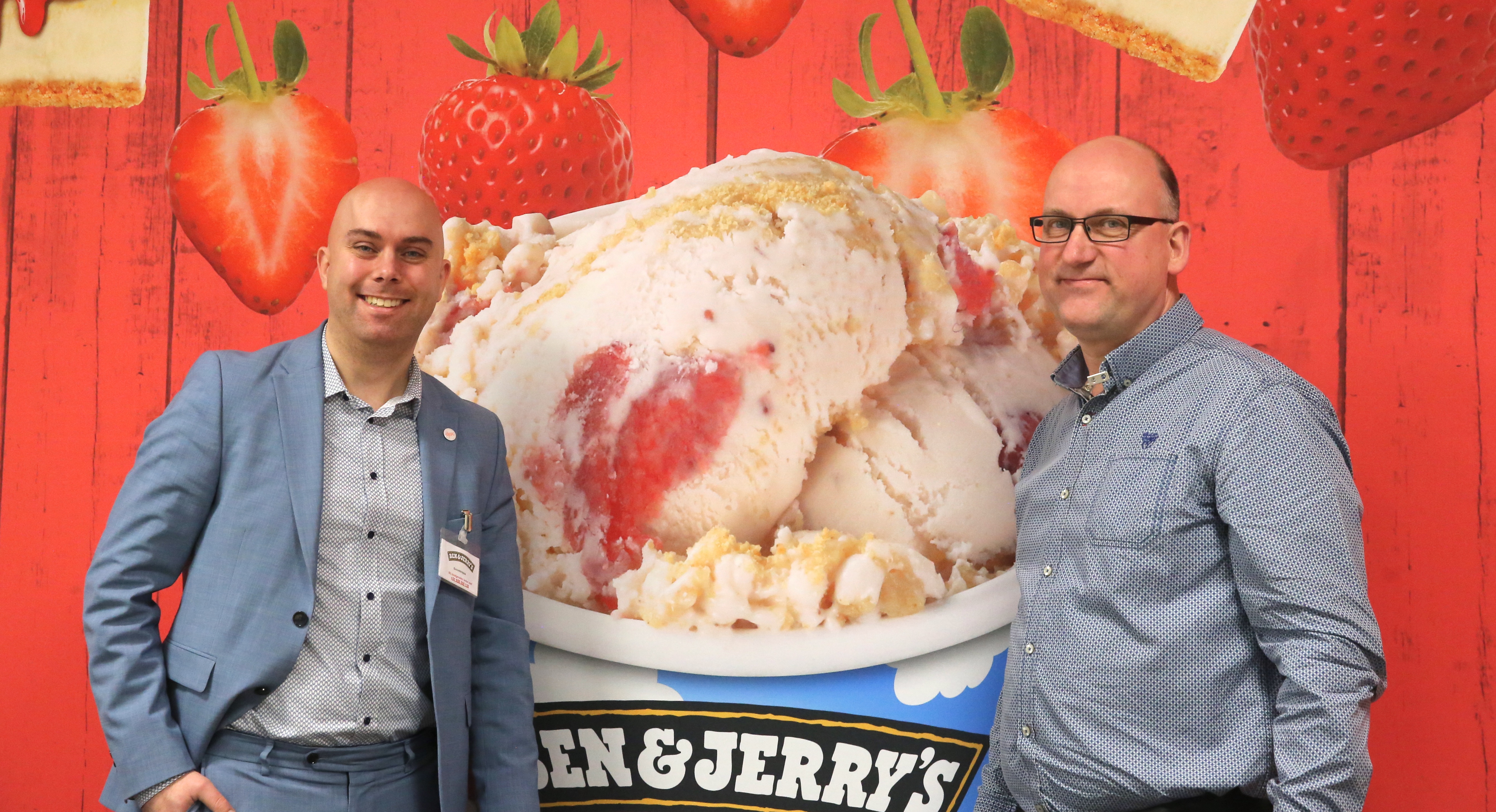 In the reception hall, we meet Leon ter Braak—QA Officer at Ben & Jerry's Hellendoorn— who has worked at this location for 17 years. We take our seats in the Strawberry Cheesecake room. The smaller Peanut Butter room was occupied. Smaller? Yes, but the peanut products are more popular. Leon has just completed a validation of the factory as one that produces products with and without peanuts.
Leon explains that the work of a QA Officer involves many things. FSSC 22000 requires that necessary measures are implemented with regard to food fraud and food defense. The entrance gate was moved, a fence was placed around the building, and identification was required upon entry. 'Cleaning and disinfection' were also an important part of the FSSC 22000. However, appropriate measures were already in place because milk and milk free products were produced on the same production line.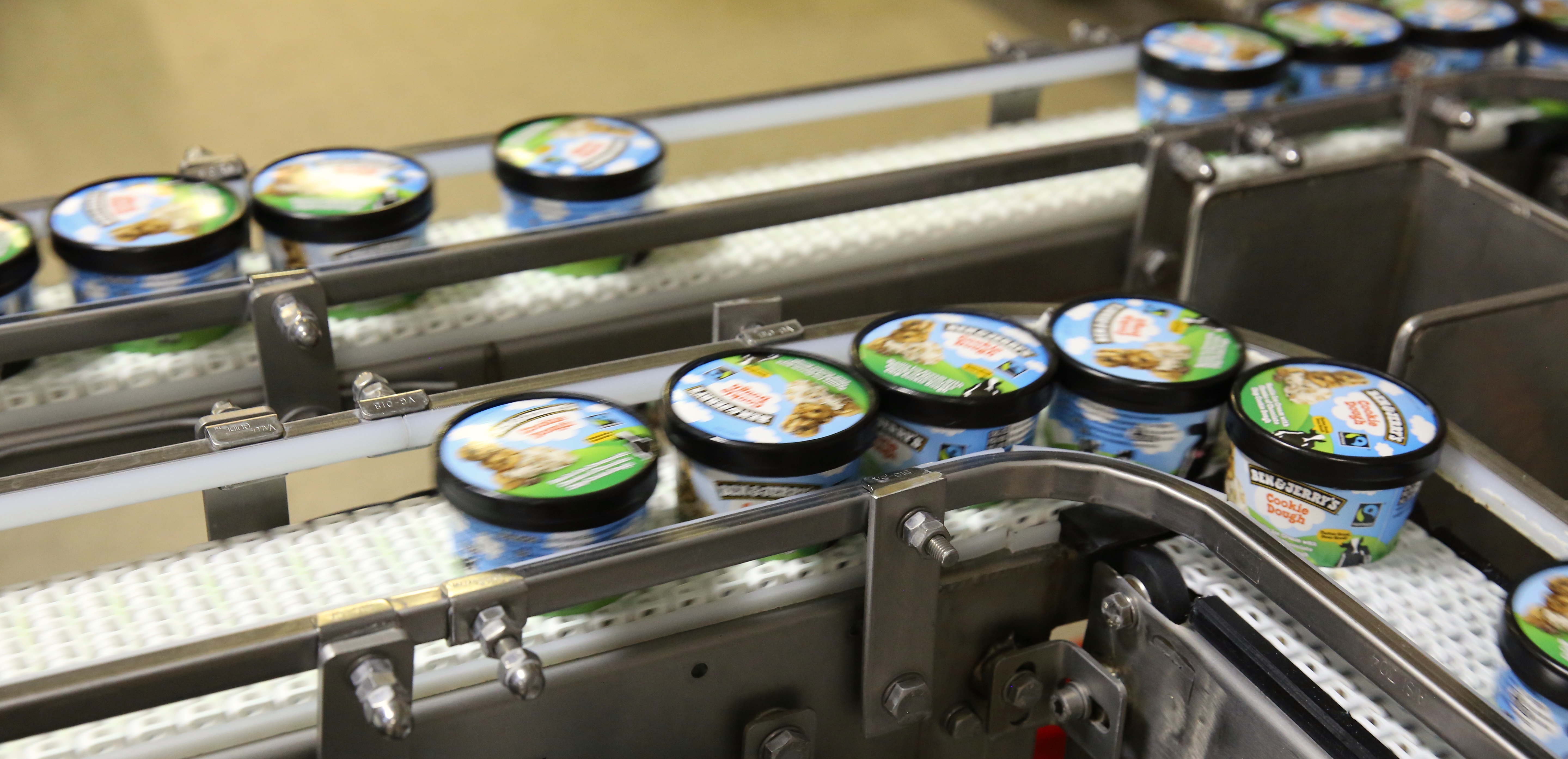 Hygienic design? The FSSC 22000 is not specific in this area. Leon points out: "You trust that the supplier of the machines will supply them in accordance with the EHEDG Guidelines. Of course, the machines are tested and assessed before use by our Project Engineers. We see that most issues arise with our own in-house modifications to the machines."
In regard to food safety, quality concerns always revolve around four things: microbiology, allergens, chemistry and foreign parts. There is always something to improve. An example is the current way in which cables are attached to the equipment. It is not easy to clean around cabling—a prerequisite for controlling microbiology. Cable ties become brittle and break over time due to frequent cleaning. Pieces of cable ties, including the metal detectable ones, cannot always be detected. Yet, Leon cannot recall ever having received a complaint about this. Nevertheless, you always want to prevent it from happening.
Recently, Leon attended a Knowledge Event on Hygiene in the Food Industry, organized by Safe Food Factory and held at the Technische Unie. Leon went with the idea that "this can be interesting, even though I may not have the technical knowledge".
The alternative of securing cables with a spring instead of cable ties, which was presented at the event, was a good idea to implement at the factory. The Quality Department manages the improvements at Ben and Jerry's Hellendoorn and has a dedicated budget for this. A team was formed immediately, and GoudaHolland (part of the Niedax Group) was invited to give an in-house presentation together with the line engineer involved. "When he recognized the practical benefit as well, he submitted the idea to the MT and they approved it," said Leon. "Now the first three items have been placed on one of the machines at a critical location above the six open packages. The first steps have been taken. Two cables still need to be extended and other parts like cable trays need to be adjusted too, but priority is given to the inside of the equipment. The first reactions are positive. It looks sleek. The cables run neatly, and you have room to clean".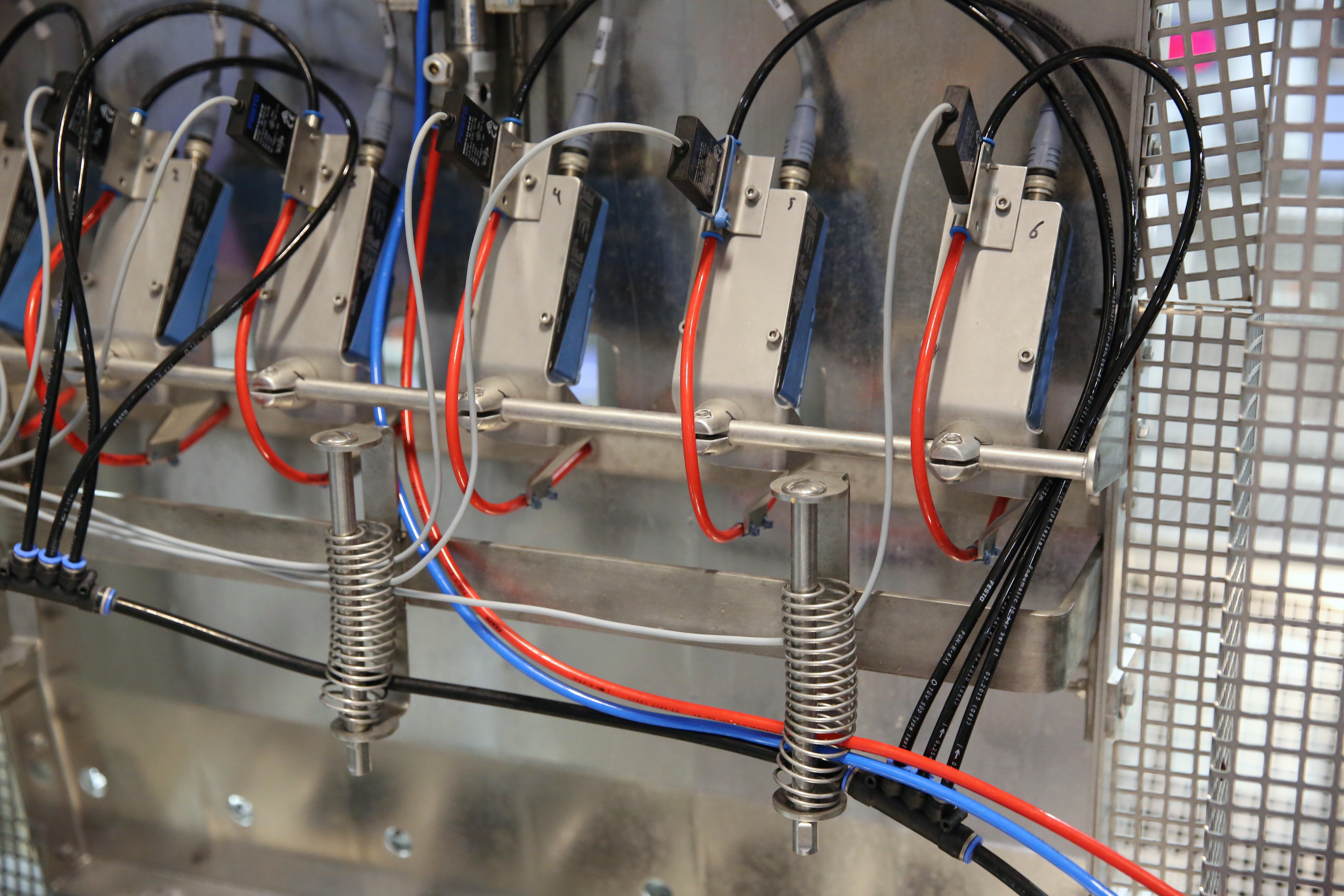 Saving by investing. Leon explains; "Upgrading an existing installation with Streamline HD will pay for itself. It makes the installation more flexible and easier to maintain. This just saves the Technical Department a lot of time and work".
What does the future look like? Leon continues; "I really like the solution from our supplier Selo for new equipment. The last unit Selo had not wired in this way. Selo now consistently applies the new cabling method throughout each machine. We are also going to make this wiring method compulsory for new equipment - and step by step, we are going to renew existing installations."
Featured expert: Michael Evers