When Aviateur does a job, it does it well
Aviateur Banketbakkerijen B.V. steals market share by focus on food hygiene
Aviateur Banketbakkerijen B.V. steals market share by focus on food hygiene
More than half a million Dutch short biscuits, almond boats, treacle waffles and almond rounds roll off the production line every hour at the five factories owned by Dutch pastry specialist Aviateur Banketbakkerijen. What started as a small-scale family enterprise in Wogmeer has grown to its current position supplying a long list A-brands in the (inter)national food industry, and as a purveyor to the Royal Household.
Aviateur's head office stands right between two large production units in Broek op Langedijk in the Province of Noord-Holland, looking out onto the Wijde Vaart polder waterway at a particularly pleasant spot on the Spanjaardsdam. Here administration, transport and sales staff work literally side by side with production staff in the factory. The logistics heart of the business is housed in the adjoining distribution centre, where Aviateur trucks are loaded up with the daily production yield from the 6000m2 workfloor of the industrial bakery. The twelve ten-tonners operated by Aviateur distribute the produce and come back fully laden with packaging materials and basic ingredients so that production can keep going. The production lines only go quiet during the daily cleaning cycle.
Cake with your coffee
Dutch people enjoy a cake with their coffee, but even beyond our borders Dutch pastries enjoy great popularity. Aviateur currently exports nearly forty percent of all its products. The producer is aiming to grow its exports further in 2018. Aviateur believes this is achievable since demand for Dutch treacle waffles is growing exponentially in the US and China. As part of its strategy, Aviateur is constructing a completely new line for the production of 40,000 treacle waffles per hour in Broek op Langedijk. This is enough capacity to bring the waffles to the (inter)national market at a competitive price.
The new line is a model of modern industrial design, based on the latest developments in food-safe production facilities. Aviateur has considered every angle in its efforts to eliminate all risks of bacterial contamination and foreign objects entering the food chain - from the stainless steel cooling towers and hygienically designed junction boxes to the easy clean cable conduits for the motor drive of the transport and handling systems. The company is willing to innovate and is not afraid to play an active role by investing in new solutions. Aviateur uses the freedom of choice it has as a family-owned enterprise to focus in on sustainability, user friendliness and food hygiene without compromise.
Safe Food Factory
As Technical Facilities Manager, Jaap Jonk has had charge of the technical facilities at the Aviateur production locations for many years now, including in Broek op Langedijk. He brings a down-to-earth Noord-Holland outlook to his role. According to Jonk, "The best way to ensure maximum food safety is by eliminating all risks of bacterial infection in your production environment. To be able to do this, you first need to identify the risks. Two years ago, I attended a seminar run by SafeFoodFactory on the subject of hygienic cabling which made me look at open cable conduit systems in a new light. Many of the cable conduits, that were previously covered, we have now made more accessible and so easier to clean." 'Less is more' seems to be the guiding principle for Jonk when it comes to maximising food safety. He was guided by the same principle in the standardisation of the production facilities. Jonk explains, "In the past, we would build the production space first and then put the production line in the available space. When we were constructing our new treacle waffle line, we did it the other way round. The internal walls of the production unit were only put in place after the production line had been installed. This will allow us to increase production capacity with a second line at a later stage. We wanted to define a new standard through the new waffle line and to apply all the latest developments and understanding in the area of sustainability, hygiene and user friendliness."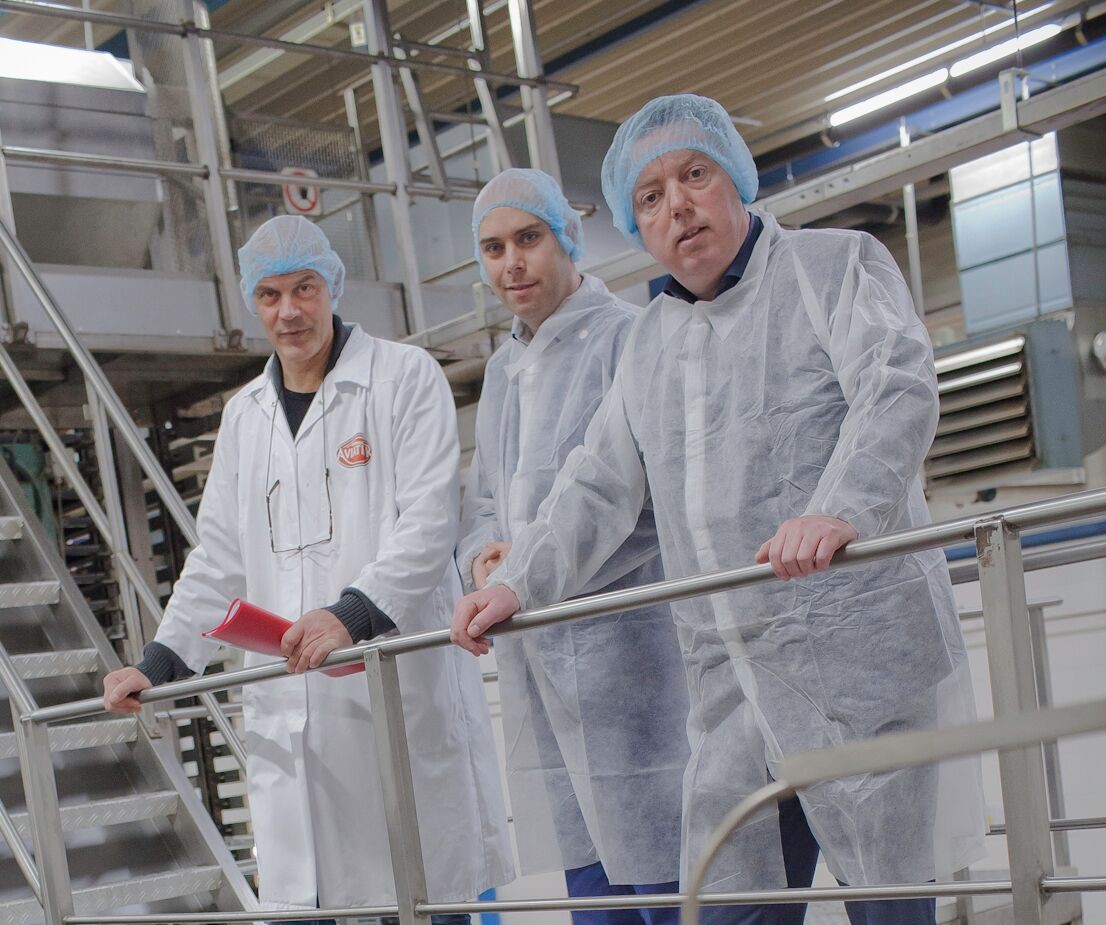 Minimising existing risks
As part of the efforts to minimise food hygiene risks, all fluorescent lamps and all plastic cable ties were removed in succession from the production environments. Jonk: "The presence of breakable glass bulbs in the production environment is a risk factor, so we got rid of them. The same went for tie-wraps. They can break off and their use simply cannot be justified in terms of hygiene, so these had to go too.
All kinds of nasties can accumulate in closed cable conduit systems, so we wanted to find a different hygienic solution for the cable conduits for our new waffle line. We found the answer in Streamline HD cable conduits from Gouda Holland (part of the Niedax Group): they are easy to clean and do not need any cable ties."
Michael Evers - Business Development Manager at Niedax Group - explains, "Not only can cable ties break and get into the food chain; because, by definition, they can't be cleaned they pose a potential risk of contamination. If cable ties are not properly tied off, they also have the potential to cause physical injuries. Hundreds or even thousands of cable ties are used in many production environments. By removing them you remove thousands of risk factors at a stroke." Jonk continues,"In the same way, we looked at the housings used for the machine controls. We consistently opted for Rittal HD housings, which have a sloping roof and effective silicone seals."
Freddy van de Kolk, Account Manager Rittal Hygienic Design: "In the period in which hygienic design products came into common use among food producers working primarily with wet processes, Aviateur was one of the first industrial bakeries to install our Rittal HD housings. Others followed their example and HD products are now used in other dry environments too. This is partly because everyone started to look more closely at and became more aware of the role of peripheral equipment in production environments. No one can or wants to run the risk of a nidus of bacteria in a switch box or cable conduit leading to contamination and the recall of products. The hygienically designed products from Rittal and Niedax minimise the risk of anything like that happening."
Evers, "Through the application of Rittal HD housing and the Niedax Streamline HD cable conduit system, Aviateur can now have greater certainty about the hygienic status of the housings and cables. At Aviateur all employees are involved in the drive for maximum food safety - it's something we go into deeply and because we talk about these issues everyone looks at the processes in their part of the business with a more critical eye. This is the most important step in being able to implement changes and the best guarantee of maximum food safety."
Jonk: "We are happy to research new ways of making our processes even more sustainable and user friendly. The safety of our employees and food hygiene in our products are our most important priorities in this respect. It all starts with maximum hygiene. Eliminating food hygiene risks also makes the work environment more manageable, and we are developing our own construction standards that we can stipulate in specifications for our suppliers. This in its turn delivers savings in time and stock. Investing in hygienic design is not only a given for me – our entire board is of the same persuasion."